Top Five Legal Issues Small Businesses Face
Sept. 19, 2022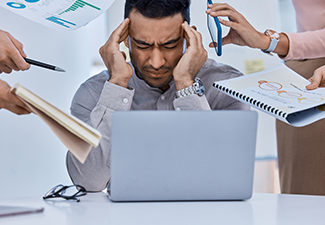 It is often said that small businesses are the backbone of America. That should not imply that starting one and owning one is, in any way, easy. In fact, legal issues from concept to closure can make small business owners feel like their own backs are breaking.
There is a way to anticipate and prepare for legal challenges, and that's to work with a skilled small business attorney. You might have never faced such issues before, but at the Law Offices of Jerry J Goldstein, we have. Moreover, we have faced them head-on with clients throughout the Coachella Valley, including Palm Desert, California, and communities in and around Imperial, Los Angeles, Orange, Riverside, San Bernardino, and San Diego counties, among others.
As a small business owner, you will take on many challenges. Here are the top five legal issues you are likely to face.
1. Business Formation: Lacking a Proper Structure
One of the items on a business start-up's to-do list is to adopt the proper legal business structure. Everything from taxes to your personal exposure to liability to decision-making is linked to the structure you adopt in your small business formation. Moreover, you need to adopt one. Operating a business without one puts you at extreme personal, legal, and financial risk.
There are five common types of business formation, including limited liability companies (LLCs), sole proprietorships, partnerships, corporations (including C and S corps), and nonprofit organizations. With the exception of partnerships, all other forms must be registered with the California Secretary of State. The paperwork and registration process can be relatively simple or complicated, depending on multiple factors.
If you choose the wrong structure for how you want to operate your business, or if you fail to adhere to the legal, regulatory, and tax compliance demanded by the structure you choose, you can find yourself in trouble before you even get the chance to launch. Discuss your business plan and goals with an experienced business attorney who can help you explore the pros and cons of business structures so you can choose the best one.
2. Licensing: Non-Compliance With Regulations
California may be the most regulated state in the country. The state's environmental, employment, and consumer protection laws are novel and complex. There are also local laws and regulations, depending on where you want to set up shop.
Requirements include licenses and permits, and some require the completion of classes, training, and successful inspections. If you want to sell something, you'll need a seller's license. If you want to open an establishment that serves food and drinks, you will need permits for your building and signage as well as one from the California Department of Health. The sale of alcoholic beverages requires licensure and tax compliance.
There are more than 200 California state regulatory agencies, and more if your business is subject to federal oversight or local regulations. Running afoul of any of them could put you out of business.
3. Contracts: Working Without a Proper Contract
There was a time when a handshake could seal an agreement but protecting yourself and your business requires significantly more formality now. Working without a proper contract is like a trapeze artist working without a net. Working with a poorly written one in a contract dispute is like not having one at all.
If you have a small business, you may think it's fine to talk to a local roofer or a handyman friend about repairing your roof. You get a ballpark estimate and shake hands on general terms, such as a timeline and the cost of materials and labor. So, what happens if the roofer falls, if the materials cost twice what you expected, if you pay some of the cost upfront and the person never shows up to do the work, or if the work takes significantly longer than you were told?
This is just one example illustrating the need for a contract. Without one, in this case, you are subject to huge cost overruns, an unfinished job, and a premises liability claim. No matter the size of your business, you need to protect it with a range of contracts, including those related to employment, contractors, vendors, suppliers, and more.
4. Intellectual Property: Failure to Protect Copyrights, Patents, & Trademarks
If you or your business owns intellectual property that gives it competitive and financial advantages, you must protect it. If you fail to and someone else starts using your intellectual property, you have forfeited your right to legal recourse against them.
Just owning a copyright, patent, trademark, or other intellectual property does not protect it. You must take specific steps and implement policies and practices designed to protect it. For example, if you have a "secret sauce" that brings people into your restaurant, you need to secure the recipe, limit access to it, and have those who do have access sign ironclad non-disclosure agreements.
If you secure your intellectual property as required, you will have legal recourse against anyone who steals it. Make sure your business law attorney is experienced with intellectual property rights and protection so you get the legal guidance you need.
5. Employees: Neglecting Proper Policies & Documentation
Whether you have one employee or 100, you need to make sure you comply with employment laws, you have proper policies and procedures in place, and you document the employer-employee relationship thoroughly.
Depending on your business, there are age, education, training, and certification requirements for certain employees. You must pay them regularly and withhold local, state, and federal taxes, Social Security, and Medicare contributions. There are laws regarding the administration of benefits, what you can and cannot ask employees to do or sign, and how many hours they can work, even if they agree to it.
Human resources has become a major compliance issue in and of itself. Your business may be too small to hire an HR professional, but you must have the proper documentation created and executed.
Skilled Business Advocacy
This information might have overwhelmed you or caused some amount of panic. All you want to do is run your business, not get mired in these legal issues. The fact is that you must address them, but you do not need to do that on your own.
Call the Law Offices of Jerry J Goldstein now to schedule a consultation, no matter where you are in the business process. We work with business owners like you throughout the Coachella Valley, including Palm Desert, California, as well as communities in and around Imperial, Los Angeles, Orange, Riverside, San Bernardino, and San Diego counties, among others.
Please note that in providing services outside of our immediate area, we generally don't bill for travel time from our offices to meet at the business location or home of our clients.