How to Protect Yourself When Buying a Company
Nov. 7, 2022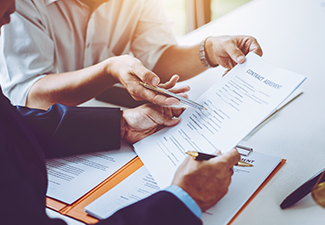 Buying an existing business in operation with a proven track record can be seen as a surefire way of avoiding the early start-up costs and challenges that can threaten the survivability of a new enterprise. However, there are potential challenges in purchasing an established business that render such a purchase far from a sure thing!
In the case of buying a business, there are several factors that, without thorough due diligence and the guidance from an experienced business attorney, can come back to haunt you. You don't want to rush into acquiring a business because you like the location and the look of things. You will want to dig deeper and get help in doing so.
A business broker, like a real estate agent, can help you find what you're looking for, but their main objective is receiving the commission they only obtgain on the successful closing of the purchase. A business broker won't necessarily look out for your legal and other interests or potential obligations.
If you intend to buy a business in Sothern California, contact the Law Offices of Jerry J Goldstein to protect your financial and personal interests and guard against any unseen or unanticipated liabilities. We proudly serve clients throughout the Coachella Valley, including Palm Desert, California, as well as communities in and around Imperial, Los Angeles, Orange, Riverside, San Bernardino, and San Diego counties, among others.
Major Considerations and Steps When Buying a Business
Probably the number-one consideration in acquiring a business, assuming that it's the type of business you're seeking and in a location you favor, is the purchase price. Does the price you will pay fairly represent the financial results from operations, actual assets held by the company, and total existing (and potential) liabilities?
On top of laying out your cash and/or proceeds from a loan, are you going to be saddled with other debts that the current owner is leaving for you to assume? What about unpaid taxes?
Your broker, if you're using one, is going to be motivated by the commission they will earn, so you really need to obtain an independent valuation. You also don't want to rely on a purchase agreement your broker or the seller's broker or attorney provides which may be drafted solely in favor of the seller.
Most Important Step: Get a Business Acquisition Attorney Involved
You may want to or feel you need to rely on a broker to help you find the business you're seeking but remember – buying someone else's company is a major commitment with unforeseen potential liabilities. To assist in that process, you should rely on the help of an experienced attorney. Your attorney will review – or preferably create from scratch – every aspect of your purchase agreement or contract to assure that you are fully protected.
Your attorney will also help you factor in contingencies in your purchase agreement. These contingencies can cover matters such as the terms of the lease or rental (if applicable), your ability to obtain the financing you need, or what the seller must do to close the deal (e.g., paying off outstanding obligations, providing indemnification for prior obligations, acquiring post-closing business liability insurance, etc.).
Depending on your background and experience, you may also want to provide for a transition phase in your agreement. You may require that the owner or key people running the business train you in all phases of the operation for a set period of time, perhaps weeks, months, or more.
There may also be local, state, and federal laws, regulations, and licenses that govern the business you're seeking to buy. Your attorney can review all compliance issues and help ensure that you are meeting and fulfilling all legal requirements and that the agreement protects you in that respect.
Experienced Legal Guidance You Can Count On
Acquiring the business of your dreams can be the crowning achievement of your life, providing you with the financial foundation you need for the remainder of your working days, but it can go sour if you rush into it and don't get the professional advice and guidance you need.
At the Law Offices of Jerry J Goldstein, we help people just like you start and acquire businesses, and we will look out for you and your best interests when you're in the market to acquire a business of your own.
You can rely on us to provide legal services throughout Southern California and beyond. Please note that in providing services outside of our immediate area, we generally don't bill for travel time from our offices to meet at the business locations or homes of our clients.